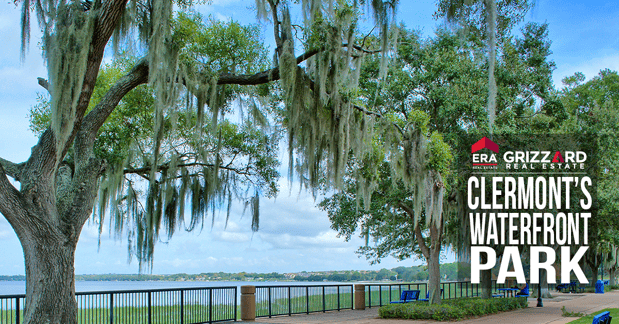 Hugging the crystal blue water of Lake Minneola, Waterfront Park is where locals of all ages and interests can gather to experience some of the best features Clermont has to offer.
Only a brief walk, drive, or bike ride from the heart of Downtown Clermont, the park has become a popular gathering point that gives its visitors countless ways to experience the area's natural features.
Whether you're looking for leisure, the perfect setting for a picnic, or paved trails for a long bike ride, Waterfront Park is a community favorite and part of what attracts buyers to their next home for sale in Clermont, Florida.
Some of the best paved trails in Central Florida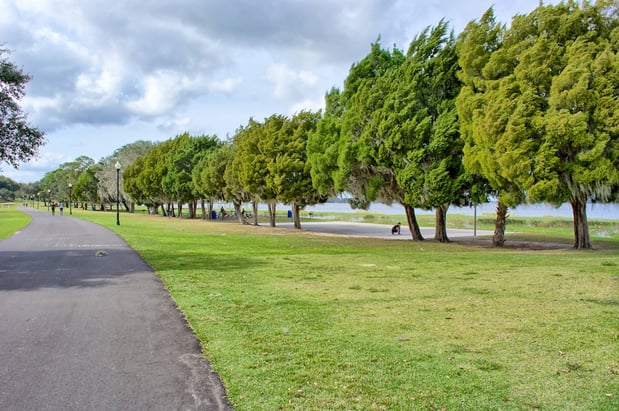 The healthy lifestyle that Waterfront Park encourages continues to give it a tremendous advantage to Clermont Real Estate. Whether you like to run, rollerblade, bike, or simply walk the miles of paved trails surrounding the park, Waterfront Park is the perfect starting point for athletes of any fitness level.
As a result, the park attracts triathlons and runs/walks of various sizes that are popular for locals and visitors from around the state and beyond. The park is also part of a 30-mile trail system and set to be part of the coast-to-coast trail. Once the coast-to-coast trail is fully complete, it will span from St. Petersburg on Florida's west coast to Titusville off the east coast—allowing adventurous bikers the ability to travel 250 miles of biking paths and across the state of Florida.
With endless opportunities to use Waterfront Park and various athletic activities available, Clermont residents regularly find reasons to enjoy the natural surroundings' beauty while encouraging a healthy lifestyle.
Plenty of excuses to enjoy the water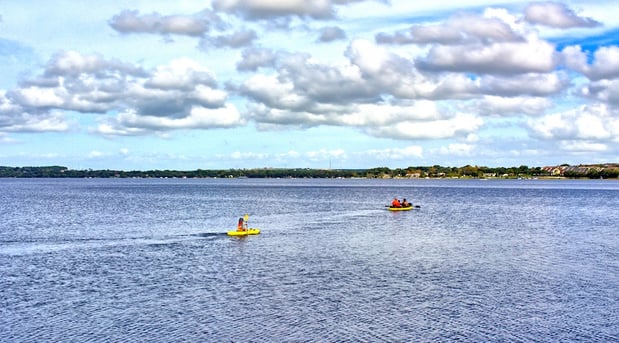 One of the many reasons locals enjoy living in Clermont is thanks to the many chances to enjoy getting out onto Lake Minneola, which couldn't be more accessible from Waterfront Park. Kayaking, waterskiing, paddleboarding, and many more water activities are very popular in the area, showcasing opportunities for both thrill-seekers and those looking for leisure.
Cooling off at the Champions Splash Park is also a popular pastime, helping make Waterfront Park a terrific refuge from the heat during the peak of summer. Thanks to a long list of water-based activities to check out all year long, Waterfront Park guarantees that residents have access to the very best features of Florida living.
Additionally, Waterfront Park's Lake Minneola is just one of 11 lakes in the Clermont Chain of Lakes, allowing for explorations on the water far beyond just Downtown Clermont!
A fun-filled calendar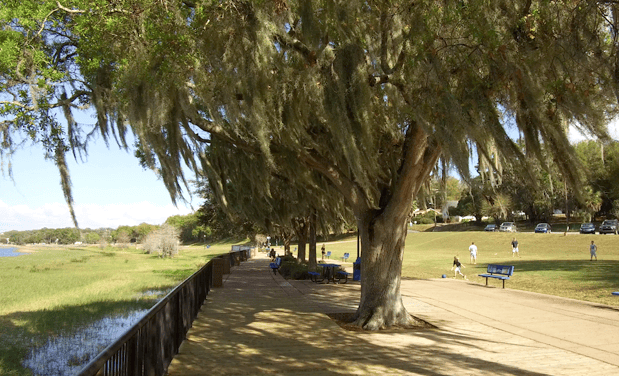 Waterfront Park is popular year-round and hosts several premier events. Near the top of the list is the Pig on the Pond community festival, where residents gather each spring for rides on the Ferris wheel, a 5K run/walk, an enormous barbecue featuring local vendors, live music, fireworks, and more. The long-running Pig on the Pond festival has become one of the most cherished events in Clermont and Central Florida for more than a decade, and it remains one of the best ways to experience the full scope of what Waterfront Park has to offer.
Stop by the park on the Fourth of July for Red, White, and Boom, offering fun for all ages, including music, food, and a truly patriotic fireworks show.

Other fun festivals and events have been popping up in recent years as local groups take advantage of Waterfront Park's unique waterside location and welcoming atmosphere.
Calling Clermont home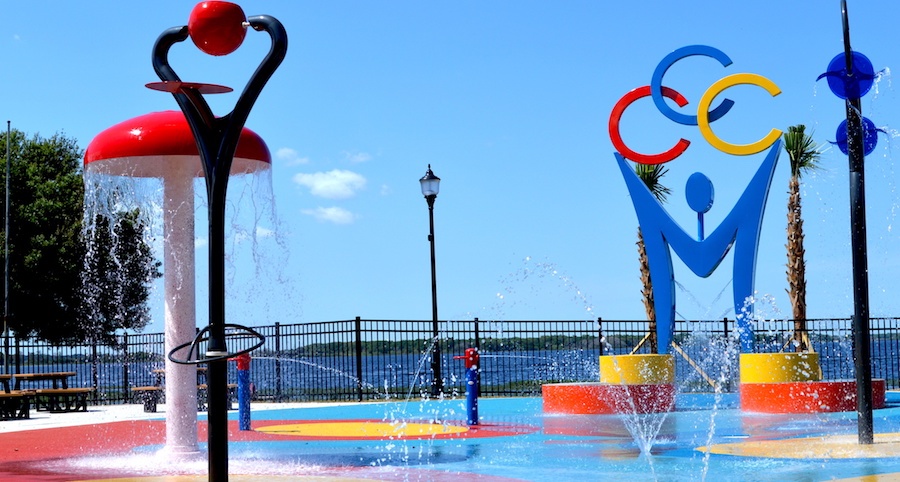 Clermont is one of the most sought-after places to call home in Central Florida. Thanks to its thriving community, unique establishments, a health-centric mindset, and beautiful scenery like Waterfront Park - Real Estate options come in a variety of shapes and sizes.

However, living nearby a gem like Waterfront Park can bring many additional perks to the place you call home, including the potential for an all-access pass to the ultimate lakefront living or boating lifestyle right at your fingertips. Being close to amenities like this is also desirable for those looking to easily feed their active lifestyle, all within walking distance as well. Many historic homes can be found close by and offer a glimpse into the area's charming past while still providing modern conveniences and everyday amenities. Several beautiful and sought-after neighborhoods are just minutes from the park, including the famous Bella Collina, which is only about 7 miles away.

If you're looking for acreage, luxury estates, new construction, waterfront, or the classic Florida pool home, the options are endless and growing throughout the area. One thing is for sure; enjoying all Clermont has to offer can be made even better with Waterfront Park close by.
Up Next

: