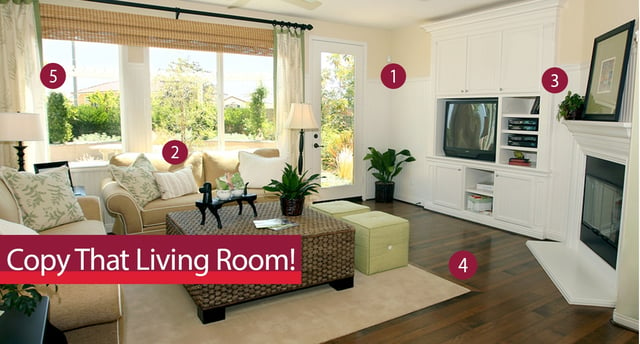 "It's the little things."
We've all heard this saying many times in a variety of situations, and often times, it's simply the truth.
It's especially true when it comes to selling your Central Florida home. A potential buyer's positive first impression of your home will be vital in ensuring their interest. So how do you make the best first impression? You probably guessed it - it's the little things.
It's important to stage the rooms in your home to best catch a buyer's eye and put your home's best foot forward - a few 'little things' can make all the difference.
If you're asking yourself, 'how can I sell my house, fast?!', here are 5 tips to stage your living room and improve a buyer's first impression of your home:
1. Neutrals Are Your Best Friend
Neutrals are the way to go when decorating a staged room - bold colors distract from the home's assets. You wouldn't want lime green curtains to over shine a gorgeous, built-in entertainment center, for example. Neutrals agree are the easiest way to ensure an inviting (not overbearing) living room.
2. Fluff Those Pillows!
Here we go again, it just really IS the little things! You'd be surprised how much the entire atmosphere of a living room can change simply by ensuring the pillows and blankets on sitting areas are neat, fluffed, and intentionally placed. It brings order to the room, and the appealing visual alone brings positivity into your space!
3. Simplify Surfaces
You'll notice in this living room that all of the surfaces have a little something to enhance them, but none are over-stuffed. The book shelf, mantel, and coffee tables have just the right amount of decor to make the room warm and inviting, but it's not overbearing.
It's important that your room doesn't look overcrowded. Like bold decor, this will distract a potential buyer from the assets of your home, and make them focus on your figurines or photos of your family instead. Make the room look natural, of-course, but don't over do it.
4. Spotless Floors
Flooring may be the number one thing that can make or break the initial impact of a room. Drab carpets or scuffed hardwood will immediately draw a potential buyer's eye - not in a good way!
Wax or mop hardwood or tile floors to make them shine! Ensure carpets are vacuumed and stainless. This will make all the difference to your buyers, and will make any room seem effortlessly tidy.
5. Lighting
Natural lighting can make any room feel that much more inviting. No one wants their main living space to feel like a dark cave. Natural lighting has also been known to increase mood - you'll want potential buyers to feel happy when viewing your home!
So, if you have windows in your living room, open up all the curtains and blinds when staging your home to bring in natural light and make the room feel larger. Just don't forget to clean the windows!
---
These few little things can help turn a living room into a buyer's dream! Keep these tips in mind when preparing your home for listing photos or an open house - you'll be glad you did!
You may also like:
How do you stage a home to look its best? Let us know below!