Selling your home can be stressful! We can all agree that getting the biggest bang for your buck is the end goal though, right? The problem with getting the most money out of your home is that it usually requires revamping your place first... making those necessary improvements and repairs. With that in mind, it requires money. Good thing for you, we have the solution you have been looking for, without any upfront costs! ERA Grizzard Realtors® provide homeowners access to RealVitalize® - keep reading to learn how it works!
How to get your house ready to sell
Looking to sell your home and don't have the money to get it ready? We've got a solution for you! Keep reading... Also, check out this article Prepping Your Home to Sell with 5 easy steps to make sure you're on the right track.
RealVitalize®
Fix it up with

Nothing up front
Sell your home faster, for a better price.
RealVitalize® lets you make the needed improvements and repairs to prep your home for sale. We pay the upfront costs and you don't pay us back until closing, with no hidden fees, charges or markups.
The results are remarkable - most homes using the RealVitalize program sell at or above list price*.
RealVitalize helps with:
Painting
Staging
Room Renovations
Flooring and Carpentry
Cleaning and Handyman Services
Electrical and Plumbing
Landscaping and Curb Appeal
And much more!
With all of this in mind, you're probably wondering what the process of the program entails? We have compacted RealVitalize into 9 easy steps so your mind is at ease!
** Based on program data from June 1, 2020 to May 31, 2021. Not a controlled study; results not guaranteed. Execution of a program agreement is required. RealVitalize is not available in all states and available only at participating offices. Void where prohibited by law. Additional terms and conditions apply. Results not guaranteed. If listing doesn't sell within 12 months from the first project completion, seller must pay back the full amount of covered services. Not intended as a solicitation if your property is already listed by another broker. Affiliated real estate agents are independent contractor sales associates, not employees. © 2021 ERA Franchise Systems LLC. All rights reserved. The RealVitalize logo and service mark are owned by Realogy Group LLC. ERA, the ERA logo, ERA Powered, and the ERA Powered logo are registered service marks owned by ERA Franchise Systems LLC. ERA Franchise Systems LLC fully supports the principles of the Fair Housing Act and the Equal Opportunity Act. Each franchise is independently owned and operated. All property enhancement services are provided by the applicable service providers affiliated with Angi. Neither ERA Franchise Systems LLC nor any of its respective franchisees or affiliated companies is providing any property enhancement product or service in connection with the RealVitalize program.
The RealVitalize® Experience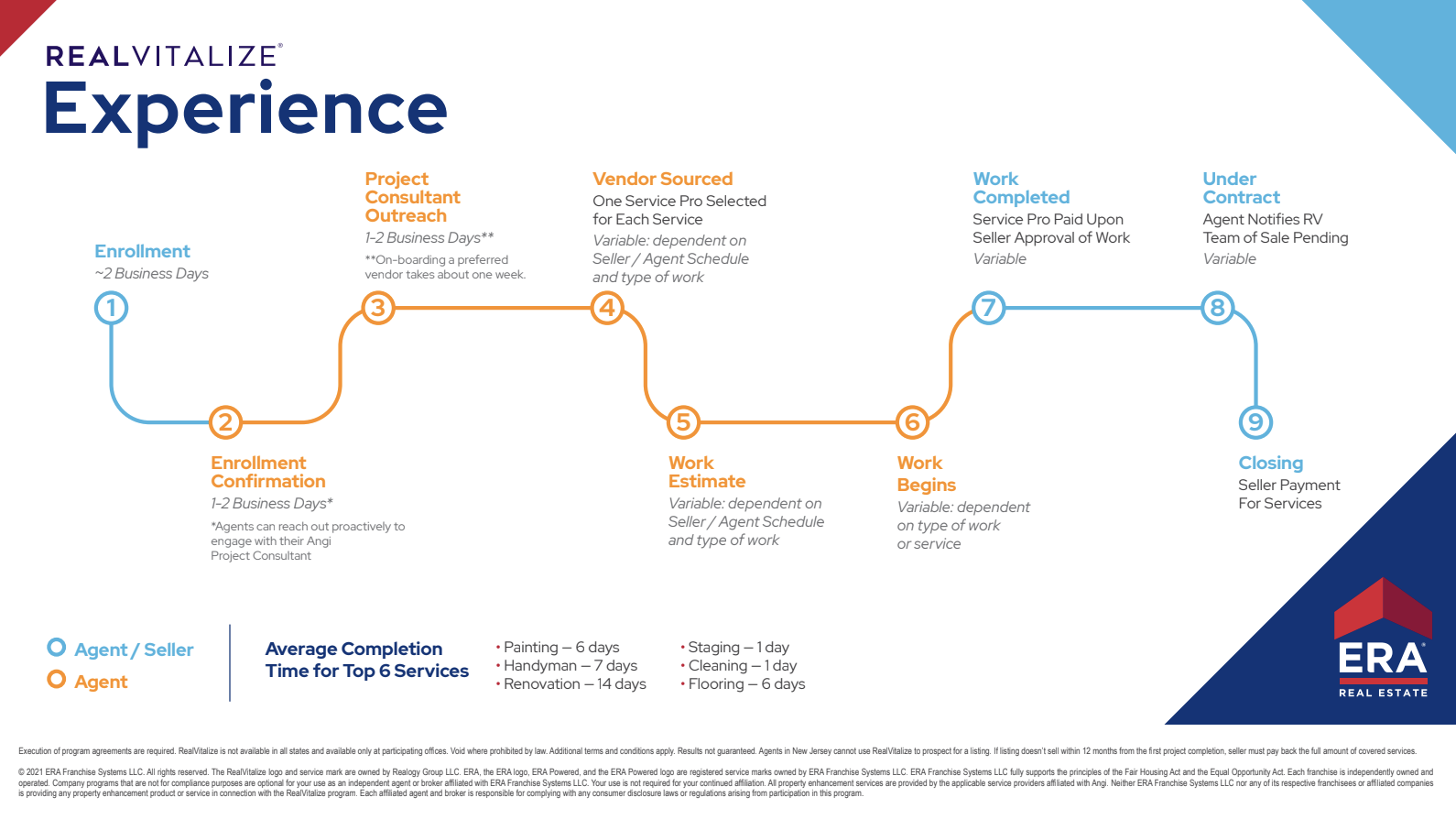 1. Enrollment
The first step to get into this program is enrolling into it right away so we can get the process started! The average time this process takes is ~2 days. Also keep in mind, the sooner you enroll, the better - this will give you a competitive advantage with the other sellers on the market.
2. Enrollment Confirmation
This typically takes about 1-2 Business Days. Homeowners and Agents can reach out proactively to engage with their Project Consultant to get the process moving faster.
3. Project Consultant Outreach
This process takes about 1-2 Business Days. On-boarding a preferred vendor takes about one week if you have someone else you prefer to work with.
4. Vendor Sourced
For each service selected, we provide one Service Pro. This is dependent on Seller/Agent Schedule and the type of work that is being done to the home.
5. Work Estimate
All work estimates will vary - how much time it takes is dependent on Seller/Agent Schedule and type of work that is being done to the home.
6. Work Begins
This will vary depending on the type of work or service that is being provided. Below is average completion time for our Top 6 Preferred Services:
Painting ~6 days
Handyman ~7 days
Renovation ~14 days
Staging ~1 day
Cleaning ~1 day
Flooring ~6 days
7. Work Completed
At this point in the process the Service Pro is paid upon the homeowner's approval of work. We handle all invoicing and payment on your behalf.
8. Under Contract
Moving along, your agent notifies the RealVitalize Team of sale pending.
9. Closing
This is the final step! Once the contract is closed, the seller will pay for the services through the closing amount collected.
What's the next step?
Selling a home can be stressful and we want to make the process as seamless as possible! We will help you through every step of the transaction, from setting a competitive sales price to navigating the paperwork. Contact an ERA Grizzard Realtor® today to learn about all of the amazing programs we offer our buyers and sellers (like this one!).