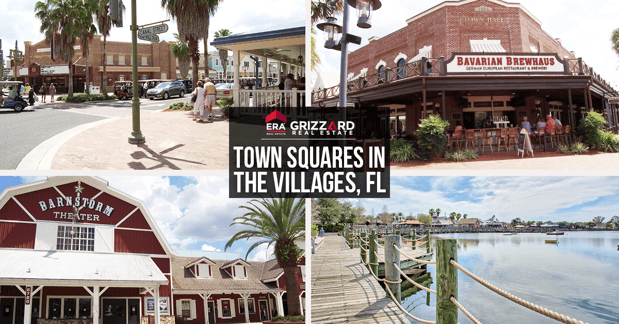 The Villages, Florida is a world-famous Active Adult community in Central Florida loved for the unique lifestyle it offers its residents. The endless activities, recreation options, shopping, dining, and beyond make it one of the most sought-after communities for 55 Plus residents.
But there are three spots in particular that truly make life in The Villages, FL so unique: Lake Sumter Landing®, Spanish Springs®, and Brownwood Paddock Square®. The main community gathering places that offer live entertainment 365 days a year, locally loved events, and more provide some of the main reasons so many 55+ are seeking their next home for sale in The Villages, FL.
Let's explore these top local hotspots and how they help make The Villages, FL one of the best places to call home.
Lake Sumter Landing® Town Square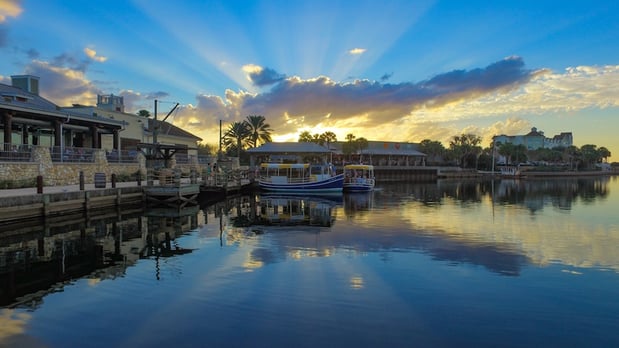 Well-known for its serene waterfront location, this area offers a relaxing backdrop and and beautiful setting. With year-round, free nightly entertainment, top shopping, dining, and more, there is always something fun going on in this local hotspot. You can even take a boat tour for a unique view of the popular area and stories about The Villages, Florida from the captain.
Popular Events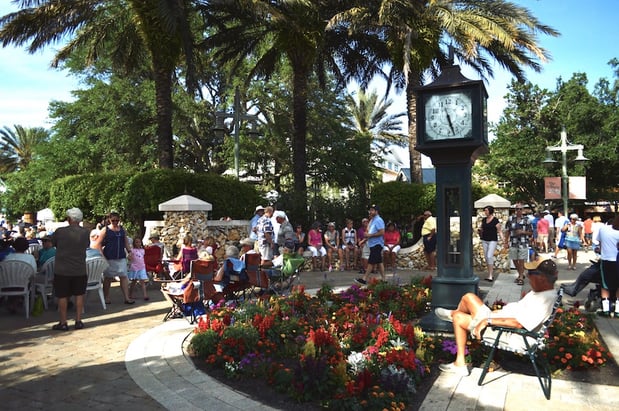 You won't want to miss the chili cook-off that is held annually! The Lake Sumter Landing® Bicycle Club meets a few times a week, and fun dancing events are held on a regular basis for residents to enjoy.
Enjoy the Arts and Craft Show, The St. Patrick's Day Festival, and the Cinco de Mayo celebration as some of the square's most popular events!
Hotspots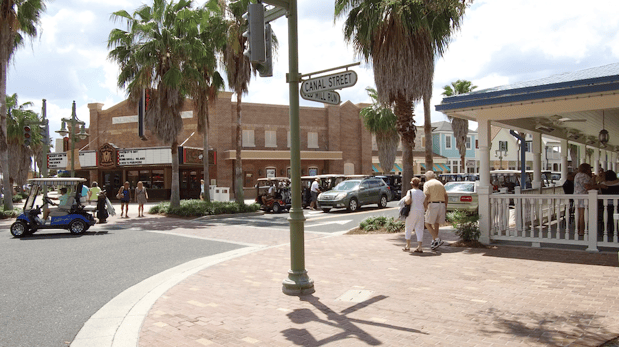 Stop by to indulge in some retail therapy in stores such as Van Heusen, Danatyler, or Ambrosia on the Square, or catch a show at the Old Mill Playhouse. Before you leave, don't forget to grab a bite to eat at one of the many restaurants including Redsauce Italian Restaurant, Amelia's at the Waterfront Inn, or Lighthouse Point Bar & Grille. ERA Grizzard Real Estate is also located within 5 miles of Lake Sumter Landing®!
Life Nearby Lake Sumter Landing® Town Square
The shopping and dinning adds to the appeal of The Villages, FL with its quaint charm and lively atmosphere. You'll always feel welcome here and right at home when spending time in this local hotspot! It's the perfect place to spend an afternoon or a fun evening with friends or someone special.

Spanish Springs® Town Square
The residents of the Villages, Florida will tell you that the Spanish Springs® Town Square is one of the top hotspots in the community. With its Southwestern feel, this area is unique in its own way with tree-lined streets and fountains throughout brimming with top entertainment and places for locals to explore.
Popular Events
Residents of The Villages, Florida can take their golf carts down to the square and for great entertainment including The Sharon L. Morse Performing Arts Center, The Rialto Movie Theater, and nightly entertainment year-round. One of the best parts, and a resident favorite, is the Cruise-in Car Show. You also won't want to miss Market Night every Monday and Wednesday from 5-9PM for great handmade finds and home accents for sale!
Hotspots
Browse the shops or enjoy a delightful meal at one of the popular restaurants including Gator's Dockside, Flipper's Pizzeria, and World of Beer. Check out popular shopping including Talbots, Patchington, Tervis Tumbler and more!
Life nearby Spanish Springs® Town Square
All of the excellent activities and hotspots to explore found in Spanish Springs® help make The Villages, FL one of the premier places in Central Florida for Active Adults to live. Come to this square to enjoy time with old friends and make new ones! Everything you need is right at your fingertips when you live nearby.

Brownwood Paddock Square®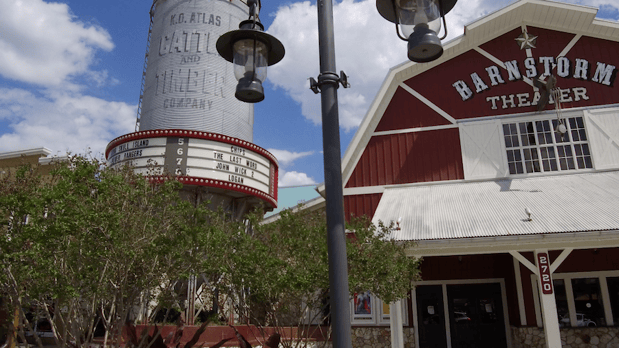 For those who want to take a step back in time, Brownwood Paddock Square is the ideal place to visit. This area is built to depict a 19th century Cattle Town! After a day of golf, come let loose at one of the most exciting places in the community!

Popular Events
This town square is home to The Barnstorm Theater, an indie movie complex where residents enjoy great movies, as well as the log cabin stage, where there is entertainment provided nightly. Events such as an Antique Tractor Show and the Strawberry Festival are among some of the resident's favorites.
Hotspots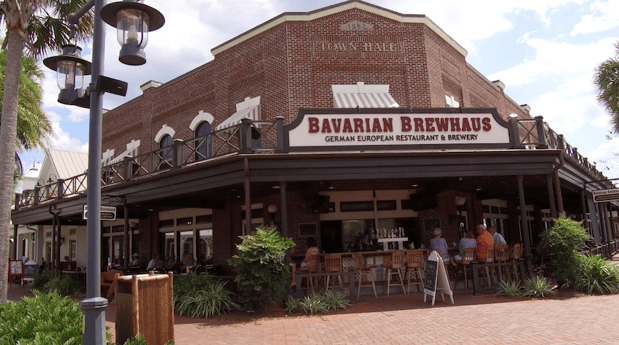 Whether you'd like to shop at Evelyn & Arthur, Christine's, or boutique style shops, this square has something for everyone's style. Enjoy an authentic Italian meal at Ricciardi's Italian Table, some mouthwatering barbeque at Cody's Original Roadhouse, or a sandwich and a stuffed baked potato at McAlister's Deli.
Life nearby Brownwood Paddock Square® Town Swuare
The old world charm of Brownwood Paddock Square® goes a long way in adding to the appeal of The Villages, Florida Community. There is always something lively and exciting going on here making life nearby this popular square convenient and exciting!

***
Looking for your next home for sale in The Villages, FL?
Up Next: