ERA Grizzard ranked in the top 350 Brokerages Nationally again this year by RISMedia and REAL Trends.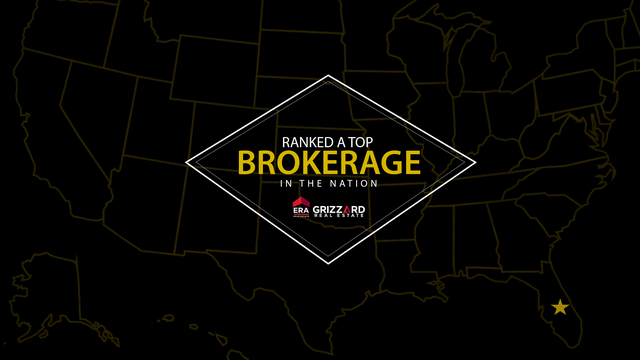 ERA Grizzard Real Estate has again been named in the top 500 Real Estate brokerages by RISMedia and REAL Trends, the trusted sources in Real Estate information and rankings throughout the industry.
With the 2019 rankings released to reflect the accomplishments from 2018, ERA Grizzard has again been ranked among the top brokerages for numbers of transactions completed and total volume of sales volume throughout the year.
In fact, the brokerage was named number 340 in Volume rankings by RisMedia, and number 347 in number of transactions by RealTrends.
These numbers reflect the brokerage's dedication to excellence, and overall, the commitment to customer service they prioritize for their clients buying and selling homes throughout Florida. Being continuously and consecutively ranked among the top brokerages nation-wide speaks to the work of their REALTORS

in 9 office locations from Orlando to Daytona Beach to Lake County, Florida.
"To me, ranking in the top 500 Brokerages nation-wide speaks to our company's dedication to service," said Gus Grizzard, Broker/Owner ERA Grizzard. "We're proud to lead the industry and provide our REALTORS® the latest tools and technology to best support them in their business and in turn, best support their customers. Each of our agents and entire team of staff are to thank for this great accomplishment. I look forward to their continued success and what's to come this year."
Additionally, ERA Grizzard was ranked the 9th ERA company for number of transactions, and the number one ERA company in the state of Florida.
RISMedia President and CEO John Featherston congratulated ERA Grizzard for their prestigious ranking in this year's Power Broker Report.
"The firms represented are the nation's most elite brokerage firms serving literally millions of consumers with their real estate needs," Featherston said. "Even with inventory and economic uncertainty as chief concerns amongst brokers, RISMedia's Power Brokers continued to prove resilient, closing a tremendous amount of transactions in 2018. We applaud their commitment to homeownership and congratulate them on their continued success and Power Broker rankings."
ERA Grizzard is pleased to continue the success from 2018 into the years to come, and look forward to continue serving the needs of their Real Estate clients at the highest level.
Up Next:
Our 10 Favorite Real Estate Marketing Services that Fuel Success