Florida is coined as among the most profitable states in real estate investment. The place is well known for its proximity to sparkling beaches, year-round sunshine, and a stable economy. Central Florida takes precedence in attracting potential real estate investors. In this post, you will learn the top 5 reasons why Central Florida is a great place to purchase an investment property. Let's get started.
Location
Central Florida is located right in the center of all the great hotspots you are looking for. The state boasts the world's famous hospitality, entertainment, and sporting venues, making it a significant contributor to the local economic growth.
Following its highly favorable business environment, Central Florida is home to many successful large-scale enterprises and companies, rendering it a hotspot for property investment. According to economists, at least 900 people move to Florida, particularly Central Florida, every day! The demand for property grows with the population increasing.
Major tourist attractions like SeaWorld, Walt Disney World, and Universal Studios in Orlando make Central Florida one of the world's most popular destinations. In 2018, tourism officials reported that the city has a record-breaking 75 million annual visitors. This was a solid 4.5% increase from the previous year.
The number is expected to go higher post-pandemic. With the increase in visitors comes a higher interest in real estate. Property investment is expected to continue benefiting from the rising demand for visitors' accommodation.
Variety
Central Florida has a wide variety of real estate options to match any potential investors' needs. In addition, there is a variety of properties to meet the needs of potential tenants. With the diverse range of property for different lifestyles, the state has something for everyone.
Some of the real estate investment options you should expect to find here include vacation and family homes, condos, resort accommodation, and exclusive properties. Most of the neighborhoods offer outstanding investable properties with the potential to generate a high return on investment.
Popularity
Central Florida is a trendy area with a very high number of visitors and residents. The popularity of the area increases the chances of maintaining a tenant on the property. Some of the factors that make this place popular are its vibrant downtown, beautiful parks and lakes, and temperate year-round climate.
In addition, the cost of living is relatively low compared to other US states. When it comes to property investment, the purchasing rates are very affordable, making the place incredibly inviting.
Growth
This state continues to grow and, in turn, attracts more and more people looking for places to live to move here. As such, the population and prospect pool for renters increases with time. In a report from the Orange County Regional Economic Summit, Central Florida is expected to have around 5.2 million people calling the place home by 2030.
With these projections for the future population growth in the city, it is critical to correlate property investment alongside. The state's economic growth conditions make the area unique and a force to be reckoned with. For instance, Orlando ranks as the number one US city for growth, and investors are striving to own a property in the town. These positive economic trends in Central Florida have high chances of helping your real estate assets and enhancing rental incomes.
Current Trends in Florida Rentals
According to a US Census Report published February 2, 2022, we are seeing record lows in rental vacancies across the country! The national rental vacancy rate is currently reported at only 5.6%, meaning 94.4% of rental properties are occupied. Even the Federal Reserve confirmed this trend, reporting Florida as currently having an all-time record low vacancy rate.
The thriving real estate market is also helping to drive the demand for rental property in Central Florida. Houses that used to be rentals are getting bought up, causing rental prices to jump in some Florida regions by hundreds of dollars per month. What does this mean for investors? Higher occupancy rates (AKA lower vacancy rates) provide peace of mind for owners that their properties have the best chances for being rented out, with the opportunity to see a return on your investment quicker than ever before.
Finding the Best Property Manager in Florida
Did you know that investors have been trusting ERA Grizzard Real Estate's Property Management team to manage their investments for over 40 years? From maintenance to finding the best tenants, we handle it all! Visit our Property Management website to learn more about the top-level services we provide.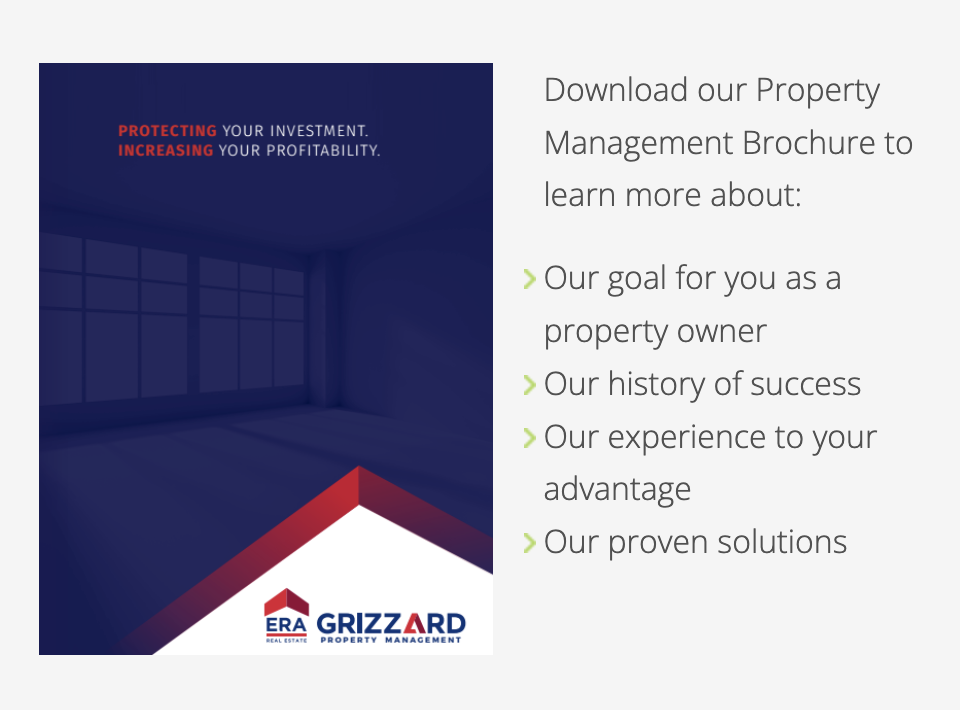 Are you looking for a reliable and trustworthy real estate property investment company in Central Florida? Talk to our team at ERA Grizzard Real Estate. We have an extensive range of investment properties at friendly prices. Our aim is to transform lives through real estate investment with our passionate industry-leading team. Contact us today and allow us to guide you on the best property investment for your budget.