The holidays are a special time of year, and there's no better place to celebrate than Central Florida. From festive lights and decorations to holiday-themed events and activities, there's something for everyone to enjoy in the area.
Whether you're looking for a fun family outing or a romantic date night, make sure to check out some of these holiday events in Central Florida.
Jump to your hometown: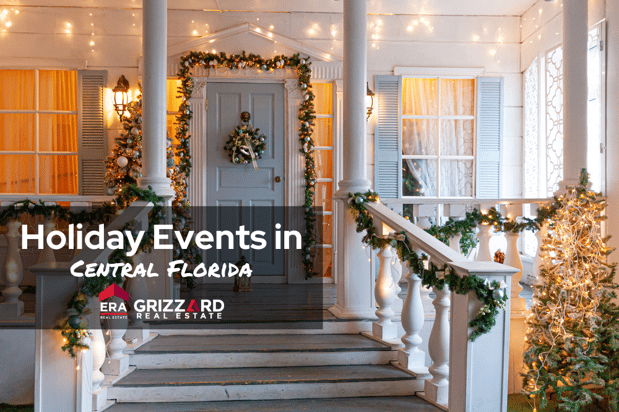 2022 Holiday Events in Leesburg
Lakefront City
Upcoming holiday events, sponsored by the Leesburg City office:
Walk 3 miles (in air conditioning!) at Lake Square Mall starting at 9 am. $30 entry fees support our 501C Local Veteran Organizations: Villagers For Veterans Ashley's House, Wreaths Across America, and AMVETS! Can't Walk? Enter or Donate at www.TriangleNewsLeader.com! Following the Walk for Veterans, there is a Well Being Fair in the Lake Square Mall. Visit vendors and enter to win prizes that will be raffled off all day. GRAND PRIZE is $1,000! Every Walker get to enter for a drawing.
Join us in Town Square for the Leesburg Chili Cook off. There will be a live music, cash bar, plenty of great chili & fun for the whole family.
Come See Amazing Cars & Trucks from Yesteryear to Today! Time to get out and enjoy the fresh air and see a variety of amazing cars & trucks from antiques, to classics and even modern-day marvels. The event is on the 2nd Saturday of every month from 5pm – 7pm. All of the downtown Leesburg restaurants will be open so you can make it a fun night out for the whole family! The event will be held In Historic Downtown Leesburg in front of Town Square
Come experience this colorful, festive and popular event as you travel from station to station in Town Square sampling over 25 different Craft Beers, Wines from around the world, and a variety of food from the region's best restaurants. As you enter, you'll be given a guide that explains the offerings at each station and even provides a way for you to keep track of your favorites! It's a Blast!!! Tickets $40 in Advance $50 day at the gate. Learn more and purchase your tickets here.
This is a FREE event for the whole family - There will be REAL SNOW in Leesburg and this year's Christmas Stroll is better than ever before! It's a wonderful evening that has become a tradition where family and friends come together and celebrate the Christmas holiday. It's truly a magical winter wonderland. Stroll through the streets of Historic Downtown Leesburg and see an array of Christmas light displays, browse through the quaint shoppes, live entertainment and see the lighting of the 24' high Magical Dancing Lights Musical Christmas Tree including a synchronized choreographed Town Square Display. There will even be a special appearance from Jolly Ol' Saint Nick, himself!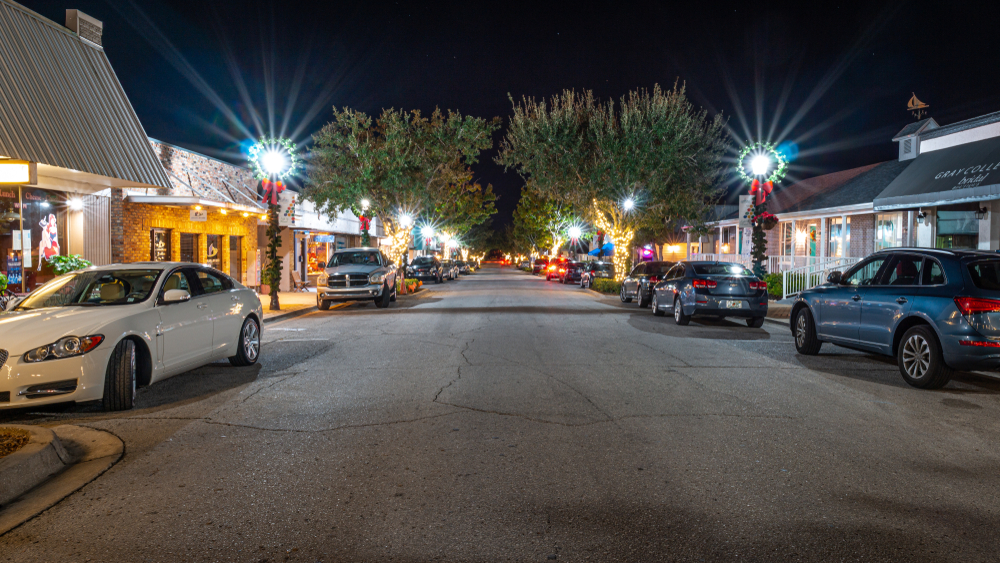 2022 Holiday Events in Clermont
City of Clermont
Clermont has the holiday spirit going strong this year:
Join us Friday, November 11, 2022 at Waterfront Park to honor all who served. The parade starts @ 9:00 am at the Highlander Building & Pavilion, 330 3rd Street, followed by a Ceremony @ 11:00am.
Saturday, November 12, 2022 @ 10:00 AM - 4:00 PM | Candy Cane Lane
Join us in Historic Downtown Clermont on November 12, 2022 from 10 a.m. – 4 p.m. for the Candy Cane Lane: Holiday Craft and Gift Show. Come shop, enjoy music, food trucks, pictures with Santa and more. We cant wait to see you there!
The Enchanting tree forest is open on Nov. 19 and runs though Jan. 8 for viewing. There are 50 trees decorated by local organizations and businesses setup to view at Victory Pointe. you can walk on the trail to view, or park at the Clermont Boat House and walk over to Victory Pointe. Check out the trees in both the daytime and nighttime to get the full effect!
The City of Clermont is pleased to host this year's annual Light Up Clermont event located in Downtown Clermont. There will be a tree-lighting ceremony led by Tim Murry, Clermont's mayor. Bring your family & friends out for some live music, food trucks, DJ, music, carolers, photo opportunity with Santa and Mrs. Claus (provided by Kiwanis Club of South Lake) and more! This is one of Clermont's most popular traditions. It's an excellent outing for the whole family!
Saturday, December 3, 2022 @ 10am | Hometown Holiday Parade
Bring your folding chairs, hot cocoa and the whole family for Clermont's hometown holiday parade through the streets of Historic Downtown Clermont. Parade starts @ 10am in front of Waterfront Park and winds it way through downtown Clermont making a loop.
Friday, December 9, 2022 @ 6pm - 9pm | Cookies & Cocoa
Join us for an evening stroll to sample varieties of holiday cookies along with some yummy cocoa while visiting participating businesses in Downtown Clermont! There will also be Community Acts performing at City Hall Park.

2022 Holiday Events in Mount Dora
Downtown Mount Dora
Fun and festive upcoming events in Mount Dora:
Saturday Nov 5, 2022 @
10:00 AM - 2:00 PM | Fall Girls Day Out
Join us at Essential Therapies Spa for Whimsy Market's Fall Girls Day Out. We'll have live music and entertainment, 30+ local vendors, food and drinks, and more. This is a FREE event and the first 50 attendees will receive a gift bag of spa swag and vendor gifts! Fall Girls Day Out 2022 will be at the Essential Therapies Spa 1518 N Donnelly St Mount Dora FL 32757
Vendors and nurseries from all over the state convene in Mount Dora to sell a wide variety of Florida native and exotic plants as well as garden ware and arts & crafts at the 27th annual event. Experts will be on hand to give gardening advice. The best part, this event is completely free!
Friday - November 18th @ 5:30pm to 8:00pm | Celebrate the Season
Held at Donnelly Park, this event will feature plenty for families to enjoy. Celebrate the Season is sponsored by Lake Cares.
Saturday – November 26th: Light Up Mount Dora event @ 3:30pm to 9:00pm
Come and enjoy a festive evening of lights at the Elizabeth Evans Park for plenty of holiday cheer! Santa will make a special appearance at Sunset Park, so be sure to bring your camera.
Friday – December 2nd: Mount Dora Christmas Walk @ 6:00pm to 9:00pm
Shop late and enjoy plenty of holiday cheer at this annual tradition featuring entertainment sprinkled around Mount Dora's historic downtown.
Saturday - December 3rd: Night of Lights for Tykes @ 6:00 PM to 9:00pm
Get into the holiday spirit by donating a new, unwrapped toy and coming to see the stunning light display at Florida's marina. During the event, families can stroll around the grounds for an amazing view of all the lights. The only admission cost is one toy!
Saturday - December 17th: Mount Dora Half Marathon and 5K @ 7:00am to 9:00am
The Mount Dora Half Marathon and 5K is a great way to get into the holiday spirit and burn off some extra calories before all the holiday feasting.
Saturday - December 31st: New Year's Eve Celebration @ 9:00pm to 12:30am
Come party with us at downtown Mount Dora's Sunset Park! There will be a cash bar, live music, and fireworks over the 4th Avenue docks at midnight.
Click here now to view all of the upcoming special holiday dates for the City of Mount Dora so you don't miss out!
2022 Holiday Events in Orlando
City of Orlando
The City of Orlando is proud to offer the following events this holiday season:
Saturday - November 19th @ 4:00pm-9:00pm | Jingle Eve
Ivanhoe Village Main Street hosts Jingle Eve, a fun-filled family event that features craft beer, wine, live music, food trucks, arts and crafts, and more. There's even plenty to do for children. So come and take part in Main Street's many restaurants and bars and stay for the night's fireworks display.
Harry P. Leu Gardens' sprawling 50 acres are transformed into an incredible display featuring 1 million Christmas lights! But that's not all this 3rd annual event has to offer. You'll find a 40-foot snow globe, an inflatable playground, meet-and-greets, and more. This family-friendly event is perfect for making holiday memories with your loved ones.
Wednesday - November 30th: A Christmas Carol @ Various Times
Starting November 30th and running for select dates through December 24th, the Orlando Shakespeare Theater hosts the classic A Christmas Carol. This family-friendly event provides hot chocolate and cookies during intermission, so bring your children for a night of classic storytelling and adventure.
Wednesday - November 30th: Lindsey Stirling's Snow Waltz Tour @ 8:00pm
World-renowned performance violinist Lindsey Stirling wows audiences with her unique style that blends classical and electronic music. The Snow Waltz Tour in Orlando will be presented by the Dr. Phillips Center for the Performing Arts. Tickets start at just $40.50, so book your seat now.
Saturday - December 3rd: Winter Park Christmas Parade
This year's parade marks the 70th anniversary of the Winter Park Christmas Parade! It's known for featuring Mr. and Mrs. Clause, so it's the perfect time to bring your children for a visit and to enjoy all that Winter Park offers.
Saturday - December 17th: The Ghosts of Christmas Eve by the Trans-Siberian Orchestra @ 3:00pm and 7:00pm
Get ready to be dazzled by the holiday season's most popular rock opera! The Ghosts of Christmas Eve by the Trans-Siberian Orchestra will be presented at the Amway Center. This year's show features all-new staging and effects, making it a must-see event. Tickets are on sale now and start at $29.
Want to know more holiday events that are coming up? Click here now to learn more and let us know what you think!
Conclusion
There's no shortage of holiday events happening in Central Florida. So come and enjoy all that the area has to offer this season! Whether you're looking for family fun, live music, or a festive parade, you'll find it all here.