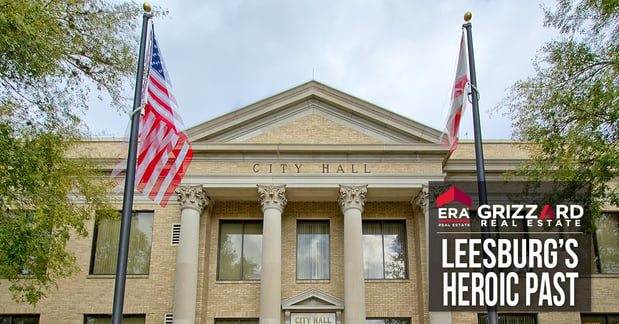 Leesburg, Florida is well known for its small-town charm, friendly neighbors, and inviting downtown. But did you know that part of the rich history includes a historic military past?
Here's a look at the city of Leesburg, FL's heroic past, and how the area is continuing to honor its brave Veterans today.
The Leesburg Army Airfield
The
Leesburg International Airport offers two runways and
about 50,000 takeoffs and landings every year.
Even more noteworthy, did you know that Leesburg's Airport played an important role in America's History?
Before it was an airport, it was the Leesburg Army Airfield used in World War II.
Built in 1942, the Leesburg Army Airfield had a range of purposes as a World War II United States Army Air Forces Airfield.
The 313th Fighter Squadron was assigned to the field, training students with the P-40 Warhawk, and the 1158th School Squadron instructing on twin-engine fighter aircraft.
The airfield was also a repair location with units for supply and ground maintenance.
In 1946, after the end of World War II, the airfield was named a 'surplus.' Military equipment was transferred to other bases around the country, and the airfield itself, now known as the Leesburg International Airport, was turned over to the City of Leesburg.
Florida in World War II
Leesburg wasn't the only city in Florida to play an important role in WWII. The area's warm climate and access to vacant land at the time made it the ideal state for military bases and training camps.
The state was home to over 170 installations throughout WWII, and the state's weather and flat land made it the ideal training place for pilots. In fact, it's been said that about
250,000 of the soldiers who fought in the war were from Florida.
Honoring our Veterans
The city of Leesburg's role in World War II and the bravery of the men and women who served has not been forgotten in this hometown community.
The service of our brave Veterans is honored and remembered with the World War II Monument located in Veterans Memorial Park in Downtown Leesburg, Florida.
Our Deep Veteran Roots
With our Broker/Owner's service as a Calvary Scout with the 82nd Airborne Division, and our Founder's Field Artillery Officer career in the U.S Army, ERA Grizzard Real Estate holds a first-hand passion for helping Military Families throughout the city where we were founded - Leesburg - and all of Central Florida.
We'd like to say 'thank you for your service' to the brave residents of our loved communities who so selflessly served, as we continue to remember and honor you.