"There's a bear the size of a MINI Cooper in my driveway!"
Yes, that is a genuine text from my mom. No, she does not live in Alaska.
There's more to being a Florida homeowner than cleaning the pool and dodging golf balls.
While the manicured lawns and stucco facades say suburbia, Florida's wildlife is not confined to the gates of GatorLand and Disney's Animal Kingdom.
But that's what makes Central Florida such a special place to call home.
My mom lives near Sanford, Florida in Lake Mary off Markham Woods Rd - an area famous for its gorgeous homes, canopy streets, and wildlife activity. One of my favorite parts of visiting her is seeing the deer lounging in her neighbors' front lawns.
It's just as natural as seeing someone's Golden Retriever taking a nap.
Wild turkeys roam the golf cart lanes and raccoons cause mischief in the garbage cans.
Central Florida Real Estate isn't just the house and land, it's also the wildlife that comes with it.
While my mom's biggest complaint is that the deer eat her plants, she still has to be cautious.
She checks to make sure "the coast is clear" every time she walks her two Shih-tzu/Pekingese, she'd want me to say - "Shinese," dogs. The wildlife is a part of her daily life.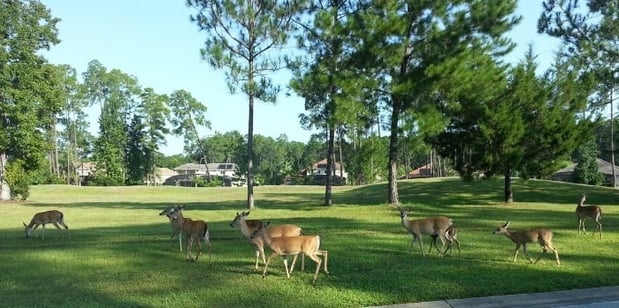 Many homes in Central Florida are on lakes or near conservation areas. These areas are hot spots for animal activity.
It's not uncommon to hear about an unwelcome pool guest. Just the other day, I heard the familiar gator bellow. A heavy thunderstorm had encouraged a gator to move from the lake to the side of my house.
Fun Fact: Almost 1.5 Million gators call Florida home (and I'm not talking UF. I'm a proud Seminole after all. Go Noles!). Florida's population is close to 20 Million. So, there's one gator for every 13 people.
With those odds and the popularity of waterfront homes, it's more than likely that you'll see the occasional gator basking in the sun.
Whether you're relocating to Central Florida or are a Florida native, it's important that you're prepared for any wildlife encounter.

Tips for living with Florida's wildlife
Do not feed the wildlife! This makes them accustomed to people which can be dangerous for the animal and the homeowner.

Get rid of the fast food joint on your property. Keep pet food inside and fasten down the straps on your garbage cans.

Give the animal some breathing room. Whatever you do, do not approach them.

Create an "Animal Safety Sheet" for your children with rules they must follow.
It's important that we appreciate our wildlife at a safe distance. Visit the Florida Fish and Wildlife Conservation for more tips on living safely with wildlife.
The front row seat to wildlife is one of the best parts of being a Florida homeowner.
If you can imagine yourself enjoying your morning brew while watching the deer in your backyard, then create a profile to find homes for sale in Central Florida.
All of the homes are guaranteed to have an active wildlife scene, even if the biggest reptile you'll see everyday is a lizard.
Up Next: