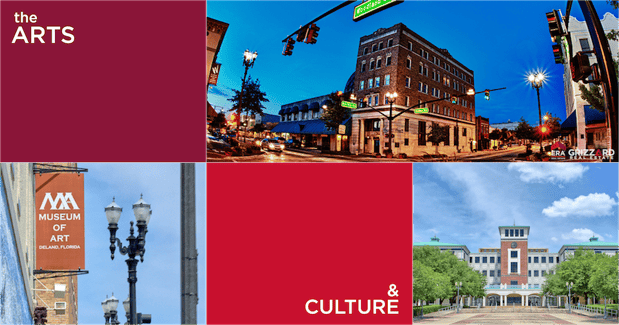 If you've never visited DeLand, Florida, you might be surprised to learn how dedicated this Florida hometown is to its thriving arts and culture.
From its historic landmarks and University, to its local events and art pieces, this one of a kind city provides a unique atmosphere attracting residents from all walks of life to find their perfect home for sale in DeLand, Florida.
The Art Scene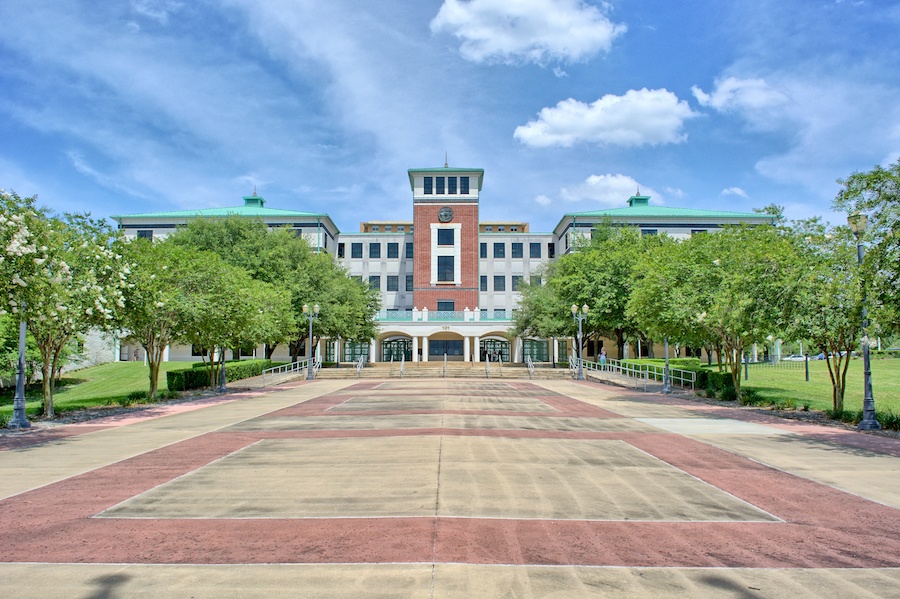 Art Filled Streets
Locals enjoy unique works of art created right in the heart of their hometown. These pieces are on display throughout town to enjoy while on a relaxing stroll through Downtown or while grabbing a bite at a local eatery.

"DeLand is the home of 15 historical murals in the downtown area commemorating our city's past. I invite you to take a stroll through our historic district and view the creative artwork brought to us through the DeLand Mural Committee of the MainStreet DeLand Association and many talented artists.
As a challenge the artists have placed hidden elements in the murals so take the time to search for them. Here is a list of all the murals in DeLand!" MaryAnn Brawner, local and Realtor in DeLand, Florida.
Modern Entertainment with Historic Past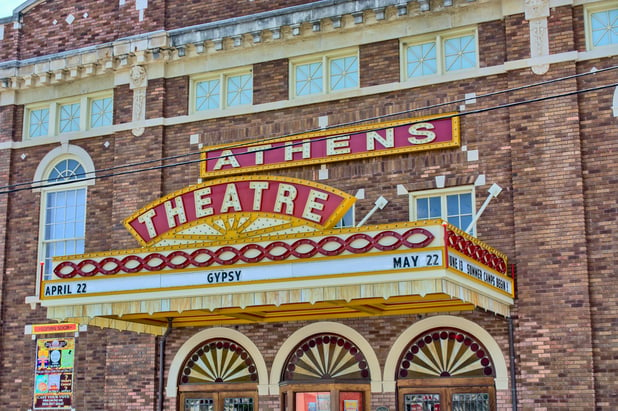 DeLand residents can enjoy world-class entertainment in their own unique theatre still brimming with the history from its past.
Designed and opened in the 1920s, this historic theatre was built primarily by DeLand craftsmen. It was used throughout the early 1900s by the community as a movie house, restaurant, and live theatre to name a few.
Today it is recognized as an important part of Downtown DeLand's heritage. The theatre performing company puts on Broadway caliber shows, along with concerts, musicals, and more!
The Fine Arts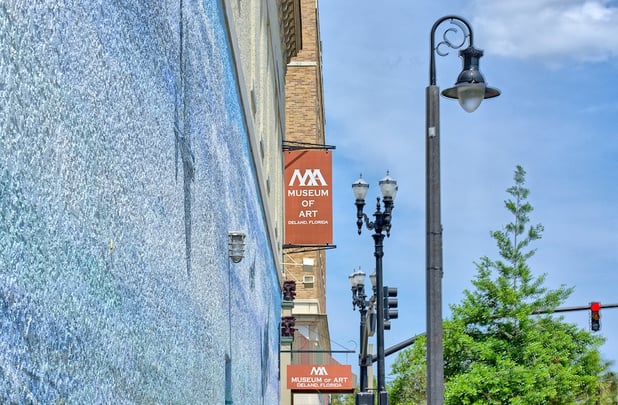 Forget a trip to the MOMA - enjoy an art-filled afternoon at DeLand's local Museum of Art!
It is a 'visual arts museum' that not only preserves and collects art, but also focuses on the study and educational use of fine arts. It's home to permanent art works as well as receptions, gallery talks, artist workshops, special events, and educational programs promoting DeLand's focus on the arts as a part of their community.
The Culture

Community Focused Events
DeLand's local events encourage its culture of community-friendly atmosphere and small town Florida. These events and festivals bring locals together to meet their neighbors and celebrate the place they call home.

"One of my favorite events is the Ice Cream Walk which happens twice a year. Different merchants choose an ice cream flavor, and with a ticket you can sample each flavor and vote for your favorite. The ice cream is handmade by Sweet Spots - a local ice cream shop. The merchants are usually very creative in their choice of flavors. Not only can you taste the ice cream, you also get a chance to check out the shops in downtown DeLand! Tickets are $10 for Adults and $5 for kids." - Sandra Otto, Realtor and local in DeLand, Florida.
Education, History & Noble Atmosphere

Historic and private Stetson University provides the feel of a noble, small college-town throughout Downtown DeLand.
Founded in the 1880s, the University is a charming backdrop further boasting an artistic culture in the downtown area. With programs that allow students to follow their passion for arts and music on a breathtaking campus, Stetson creates a one-of-a-kind experience for both students and the entire community.
The Atmosphere & Recreation

DeLand's overall atmosphere of an active, welcoming, small-town community is loved by residents. Even its popular parks and recreational facilities boast the focus of arts and culture.
Painter's Pond provides a walking trail winding past local artwork and a peaceful pond. Downtown DeLand's Chess Park with chess tables and a life-size chess board also includes a small stage for events.
With its peaceful atmosphere, focus on the arts, and unique way of life, this city is a wonderful place to call home.
Looking for your next piece of Real Estate in popular DeLand, Florida? Browse homes for sale in DeLand here!


Up Next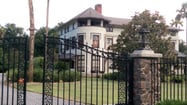 As the first city to have electricity, and its founder enticing settlers with a money back guarantee, the timeless charm of DeLandhas been embraced today by its historic homes for sale. Read More
It's known as a college town, an art-focused community, and one of the best places to live in Florida. Here are some of the reasons locals love living in DeLand, and why you should consider it if you're looking for your next hometown. Read More
---
Sources:
http://www.deland.org/pages/delandfl_parks/Parks/index
http://www.stetson.edu/home/
http://www.moartdeland.org/
http://athensdeland.com/About.html