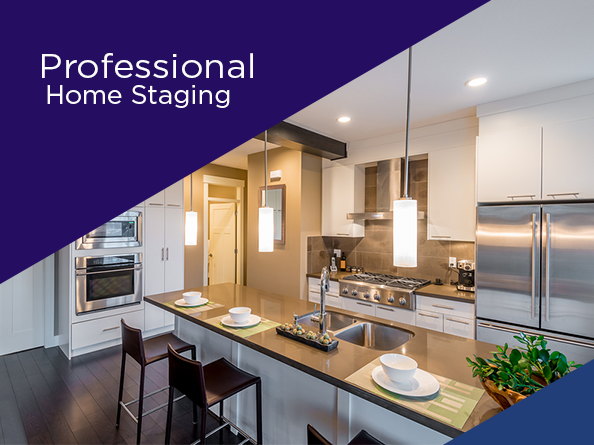 What would a potential buyer think of your home?
Imagine them stepping through your front door and taking a look for the first time. They slowly walk from room-to-room, critiquing everything along the way. Their eyes travel around to those 'things you've been meaning to get to' and notice them right away.
The spacious closets, that first attracted you to the home, are now stuffed floor to ceiling. The gorgeous granite counter tops are covered in, well, junk. And while you love your oversize couches, they're swallowing up your living room.
Would the potential buyer walk out the door ready to make a full price offer?
If you want to sell your home quickly and for top-dollar, then you need to make it appealing to potential buyers. But it doesn't have to be complicated!
Our Expert Agents share their best tips to make Home Staging a breeze-
1. Consider Using Staging Items or Furniture
"I had a listing for well over a year that was vacant. I finally persuaded the sellers to purchase some soft window sheers and to add new furniture to the great room and breakfast nook. I took in some staging items that I had for the kitchen, and we added color to the baths with accessories. We had an offer within 2 weeks!" -Marilyn Morris
2. Remember That Less is More

"I always tell my sellers that the goal is to de-clutter! Clean out cabinets and closet. Clear off counters. Remove refrigerator magnets, and pack away what you don't want to throw away. Make space!" -Becky Short
3. Easily Revive an Old Kitchen or Bathroom
"Are the cabinets tired or old? You can always them and install new hardware. If the bathrooms are tired looking, you can easily re-glaze the tile and the tub and use fresh caulking."-Cheryl Hilty-Huth
4. Take Down the Photo Wall
"Although we all love displaying photos of family, we cannot have them all over the house. A buyer will begin looking and focusing on the photos every time, rather than the house. It stops the prospective buyer from taking emotional possession of the home because they cannot visualize themselves in it if the seller's family is so evident."-Jel Parker
5. Make Room for Storage
"Make sure that you empty closets and drawers. You might even want to get a small storage unit. What you don't want to do is take the things from one location and put them into a closet or shove them into the garage. That is still going to make your home look cluttered!" -Dick Batts
You don't need to be an interior designer from HGTV to successful stage your home. Just take the time to go through your home room-by-room with an objective eye. After a little bit of elbow grease, your home will be professionally staged in no time!