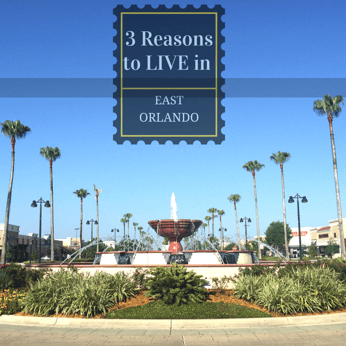 While Orlando may be well known as the home of Mickey Mouse, it's actually a diverse city with a character all its own and a great place to call home. With popular communities ranging from luxurious city living to white-picket-fence suburbia, there's a community for everyone.
If you are considering buying a home in the Orlando area, the options can truly be overwhelming. I experienced this firsthand when I relocated from Virginia. I knew I wanted to buy a home in a convenient location, near plenty to do, and great neighborhoods. East Orlando is what I was looking for.
Here are 3 reasons why you might want to buy a home in East Orlando:
1. Convenient Location
Commuting is a breeze! East Orlando has easy access to two major Florida Highways, 408 and 417. You can get to Downtown Orlando in approximately 15-20 minutes and to the Orlando International Airport in about 25-30 minutes. If you enjoy going to the beach, you can get to Cocoa from East Orlando within an hour and enjoy a sunny day with your feet in the sand. Get used to house guests because you are only 40 minutes away from the theme parks!
2. So MANY Things to Do
One of the reasons why I lived in East Orlando for over 3 years, was the convenience of the nearby outdoor mega-mall, Waterford Lakes Town Center. There you have the option to go shopping, grab a quick meal, or have a nice dinner with friends at one of the 20+ restaurants. You can also watch the latest movies or get a relaxing massage. At Firkin & Kegler Family you can go bowling and play classic arcade games, or you can have a blast at the popular Congo River Golf.
3. A Home for Everyone
Every neighborhood in this area offers something different and unique to home buyers. Avalon is a community designed to be that "ideal" neighborhood. The first time I drove by its charming downtown area, I felt as though it had been designed by one of the Disney Imagineers. Waterford Lakes is another popular choice. Its expansive amenities include: a popular workout route, recreation center, dog park, multiple community pools, and sporting facilities. Stoneybrook East is a gated community well known for its champion golf course and luxury home options.

Within all these great neighborhoods, you will be amazed by the amount of home options you will find in East Orlando. From townhomes to more room than you know what to do with, there is a perfect home for everyone at all price points.
What helped me find the perfect home was doing research on the local Real Estate market. If you want to learn more about East Orlando's Real Estate, be sure to download our East Orlando Real Estate Guide. There you will find a lot of helpful information about the market and the area.
What do you love about East Orlando? After all, you want to be able to live a great life in and outside your home! Leave us a comment below and tell us why East Orlando is your kind of hometown.