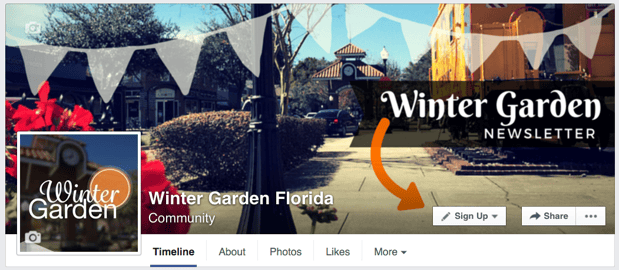 There are over 1.5 billion people on Facebook, and the average U.S. user spends over 40 minutes a day scrolling away. While these are some impressive - and possibly concerning - stats, what's more impressive is the potential business opportunity.
You have the ability to form relationships within your target community while simultaneously growing your business.
Create a Facebook Page tailored to your farm area!
It's not only cost-effective and engaging, it's also an incredibly effective form of Real Estate Marketing. In fact, our Facebook page is a top source of traffic for ERAGrizzard.com. You can start conversations within your community, establish yourself as the local expert, drive traffic back to your website, and generate new leads.
I created a Facebook Page, Winter Garden Florida, to walk you through how to successfully use Facebook in your marketing.
Step 1: Create Your Facebook Page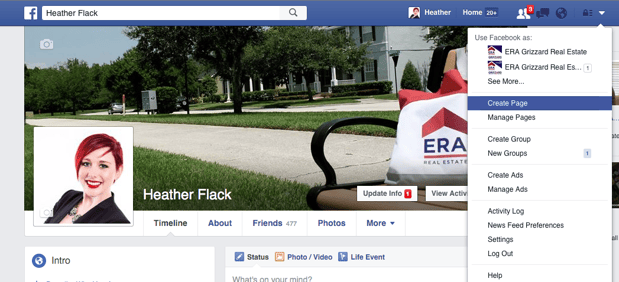 Create page. Log-in to your Facebook profile and select "Create Page" from the drop-down located under the arrow in the right-hand corner.
Select a category. I chose "Community" in this example because I wanted "Winter Garden Florida" to be seen as a local interest page and not a business. However, "local business or place" and "company, organization/institution" have benefits as well.
Name your page. Think of a name that would appeal to people in the area. I chose "Winter Garden Florida" because it happened to be available. Other ideas - "Life in Winter Garden," "Winter Garden Homeowners," "Winter Garden Neighbors," and "The Winter Garden Buzz." Think of something catchy that covers what you'll be sharing.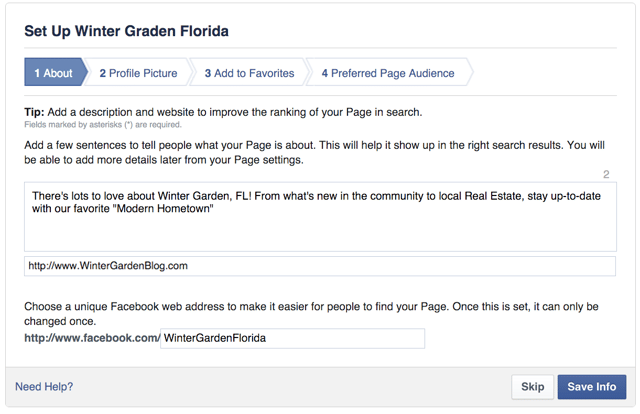 Write your "About" section.

This section is a balancing act between making it interesting and using keywords to help people find it.

Here's Winter Garden Florida's: "

There's lots to LOVE about Winter Garden, FL! From events in the community to local Real Estate, follow what's new with your favorite "Modern Hometown"

Include your website.

Direct visitors to the page on your website with information about that area.

Tip: Buy a domain name that is the same or similar to your page's name and forward that to your website. I bought WinterParkBlog.com and forwarded it to blog articles on our website about the area.

Choose a Facebook web address. I'd recommend staying consistent with the name of your page.
Upload a profile picture.

Choose a photo of the area and consider adding the name of your page to the photo. You can quickly create this type of image through

Canva

- a free design site.

Add to favorites.

To easily find your new page on Facebook.

Select a preferred page audience

. Anyone will be able to find your page, but this will help Facebook connect your page to your farming area. The most important section is location. Be sure to select the neighborhood or community that your page is about.

Walk through the tutorial.

Once you've completed the setup, you'll be taken to your Facebook Page. Read all of the pop-up boxes and prompts to learn tips.

Add a cover photo. Click on the camera icon on the upper left-hand corner of your cover photo. Upload a photo of the local area. I made the cover photo in my example using Canva's Facebook cover photo tool.

Advanced Tip: Use your cover photo as an additional lead capture technique. Facebook allows you to select a Call-to-Action on your cover photo. I chose "subscribe" and directed it to a landing page where you can subscribe to our newsletter. Using Canva, I edited my cover photo to prompt visitors to subscribe. Learn more about Calls-to-Action in - Leveraging online marketing in traditional farming
Step 2: Post content on your page
I always say "Anybody can post on Facebook. That doesn't mean it's strategic marketing." You want to keep in the back of your mind that this page's goal is to help you grow your business. That being said, the public sees your page as a page about the community.
You'll need to maintain a balance between posts that are just about the community and posts that are more Real Estate specific. Here are a few ideas from my Winter Garden Florida page:
Give "Insider Tips"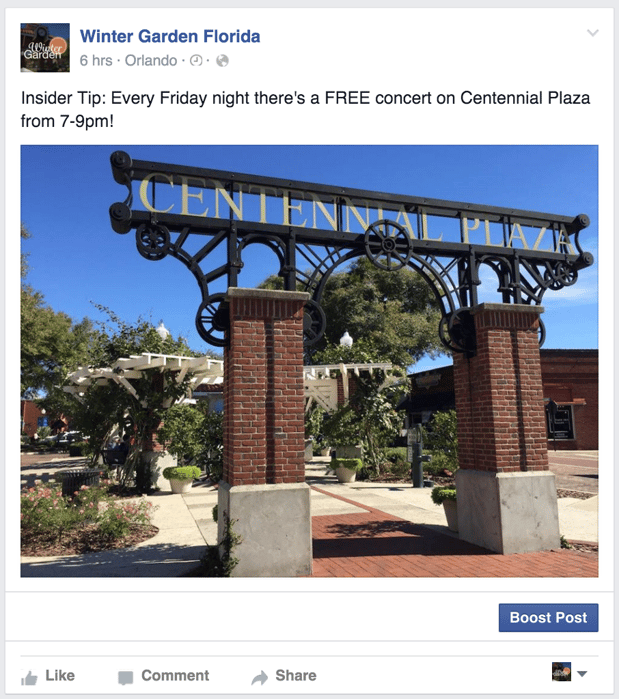 You're the local market expert! Show off your knowledge with a simple photo and a tip to go along with it. Ask for Insider Tips and quote people from the community - a great way to start building relationships in person.
Bonus: Film your Insider Tips and post a video! Your iPhone is perfect for this, and you'll have the added benefit of promoting yourself.
Share event info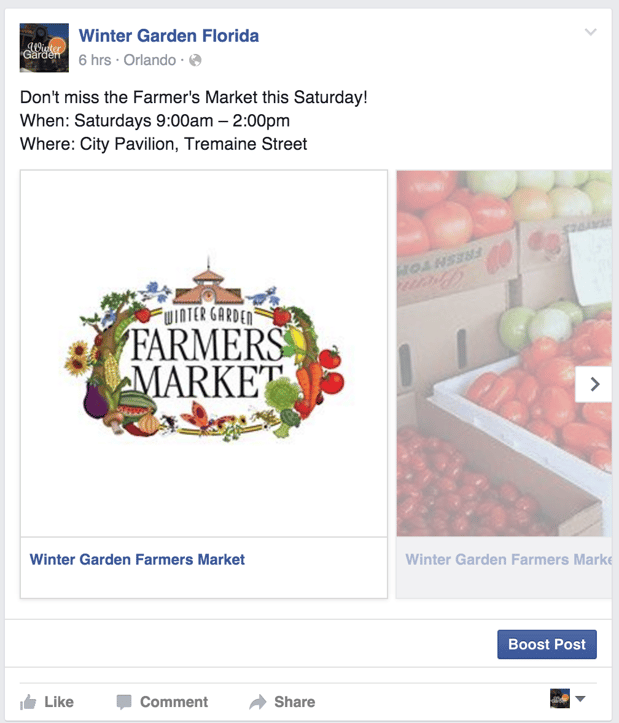 Winter Garden has a fantastic farmers market and a website with their calendar and more info. I simply shared their website.
A FAVORITE Tip: Worry about sharing other people's content and not getting a direct result for your business? Try Snip.ly. This site allows you to put you own Calls-to-Action on other people's content! Click on my post. You'll be able to read the Farmers Market's site, but you'll see a pop-up for "Homes for Sale in Winter Garden." This pop-up takes you back to Winter Garden listings on our site.
Feature a local business

Snap a quick photo of your favorite local shop or restaurant. Just be sure to tag that business in your post.
Promote your own content

If creating a blog was part of your Real Estate Marketing Plan, share content from your own site. This is one of our recent blog posts and an example of how we are able to drive so much traffic back to our site from Facebook.
Include local news

This article is about the Real Estate market in the area. You better believe I made it a Snip.ly link and used "Winter Garden Homes For Sale" as my Call-to-Action.
Share a photo

As simple as it sounds, snap a few photos of the area. This is probably the easiest type of post. You have experience doing it with your personal profile, and it's an easy way to keep content on your page active.
Highlight a listing

Post multiple photos of one listing and include a link to view the home's details on your website. If you don't have a listing in the area, reach out to another agent and ask if you can share theirs. Just be sure to link back to your own website.
Tip: Consider writing a blog post about a featured listing. You can include additional Calls-to-Action, and it will help in building your site's SEO for your farm area.
Consistency is the most important aspect of the content you post. You'll need to be active with your page to grow a following and generate more business through your Facebook marketing. I'd recommend posting at least 3 to 5 times per week.
Step 3: Promotion

Nothing is ever free, and the same can be said for Facebook Business Pages. You'll need to invest - thankfully not too much! - in promoting your page and content.
Boosting a post
Select "Boost Post" under the post that you'd like to pay to promote. You can pay a small amount, say $5, to boost every post and grow your audience. However, I would suggest that you absolutely have to pay to boost the posts that drive traffic back to your site.
Select the location of the area where you would like to target your post and the age of your audience. Example: Your Facebook Page is focused on a 55+ Community in Clermont. You might want to select an age of 45 and up and a location of Clermont.
Then, select your budget and how long you'd like to promote your post. If you're paying to promote a featured listing, I find that Friday late afternoon and weekend posts do well. Also, selecting a higher budget over a shorter time frame, 1 to 2 days, seems to get us the best results.
Market your page outside of Facebook
Incorporate your Facebook Page in all of your Real Estate marketing. You can add it to your listing flyers, put it on your postcards, mention it in your newsletters, add it to your email campaigns, put it on your business cards, and include it in your print ads. Get creative!
Have an upcoming listing appointment in the area?
Show a potential seller how you provide their home with additional exposure by marketing it on your popular community page.
---
Don't think that you'll be stuck behind the computer! You Facebook Page is a great opportunity to get out and meet new people in your farming area. At the same time, you'll have trackable results for how it's helping you grow your business.
More Real Estate Marketing Posts:
Are you using a Facebook Page in your farming efforts? Any tips for generating business from Facebook? I'd love to hear about them in the comments below!